Women in Domaining: An Interview with Karen Dixon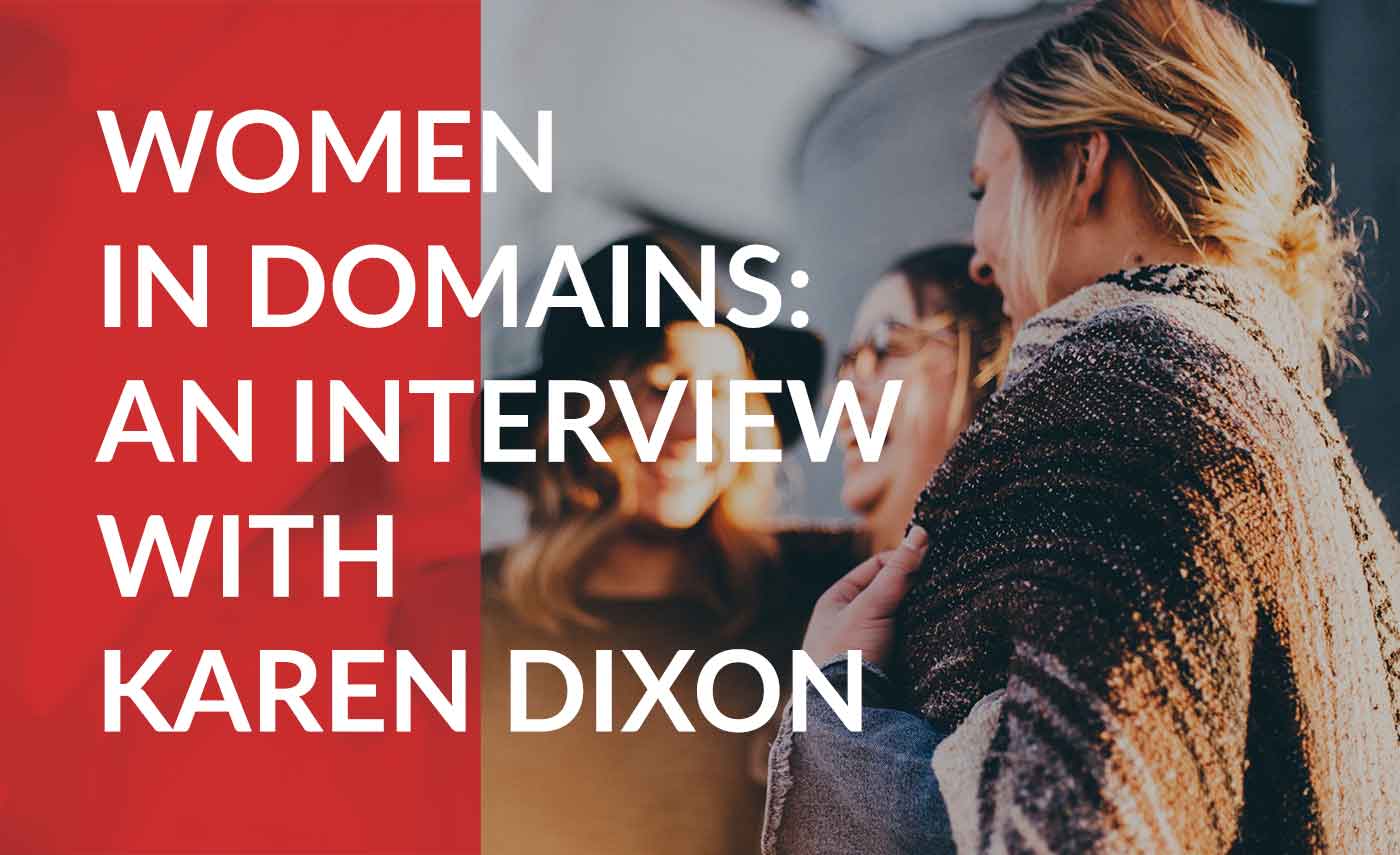 33%.
According to Deloitte, that's the percentage of female representation technology firms will achieve in 2022 (and even that's up a couple of points from 2019). When it comes to the percentage of women filling technical roles at those technology firms, that number drops by 8 percentage points to a mere 25%. Considering women makeup 47% of the total labor force, it stands as no surprise that there could be more representation in the technology sector.
So, why is it that women aren't equally represented across a range of technological industries?
The history of women's employment is fascinating, especially since the inception of the Internet. (Former Palestinian Prime Minister, Benazir Bhutto, called it "the great equalizer," in a speech at the International Women's Leadership Forum in 1997.)
As we mark National Women's History Month this March, we're focusing on a small slice of the tech sector: the domain name industry.
Domain names (and by extension the domain name industry) are practically inseparable from the Internet itself. In simple terms, domain names help us and our computers make sense of the World Wide Web. When you enter a domain name into your browser, one server talks to another, points to and resolves in your intended destination, whether that be a website or an online program.
In today's post, we're continuing our Women in Domaining series and sitting down with Domain.com's very own Senior Vice President of Marketing, Karen Dixon. Keep reading to learn about her reluctant entry into the domain industry and hear what she has to say about being a woman in a historically male-dominated industry.
Women in Domains: An Interview with Karen Dixon
It's February in New England. We're halfway through winter, and as you can imagine, the days are short and cold.
But even the freezing temperatures don't discourage Karen from taking care of herself and her responsibilities. Before starting her long and busy days, she's outside on a run with her Vizsla, Cisco. Then, it's time for breakfast and to sign on to her computer and start her day working from home, or to take a quick drive into the (now mostly-empty) office.
That's where we found her, tea in hand, when we sat down to talk about her career and insights into the domain name industry.
Hi Karen, thanks for sitting down with us today to discuss women in the domain industry. We appreciate you taking the time to explore this topic with us!
To help us get started, can you describe your current company and role there? 
Thanks for having me as a subject for this interview! I'm more often on the other side of the equation, so it's fun to get to answer some questions for you.
I work for Newfold Digital, which is the company that was formed when Web.com and Endurance International Group merged in February 2021. 
I held the role as head of marketing for Domain.com and BuyDomains at Endurance for about 7 years; when Web.com and Endurance joined together I was given the opportunity to continue in that role, overseeing all domain-leading brands (Network Solutions, Register.com, Domain.com, and some others). I'm also responsible for the marketing of domains across our entire portfolio of brands. 
This has been an incredible opportunity for me as it requires differentiation of how we position our various domain brands in the market. Our portfolio of domain brands has very different strategies regarding growth and retention, and I've had to rely on many skills and those of my team to ensure we continue to build value for our customers.  At the core of everything we do is the mission to help our customers be successful, whatever that means to them.  
Where did you study and what do you hold your degree in?
I studied psychology at the University of Vermont in Burlington, Vermont. I considered continuing my degree in psychology after college, but I decided to take a job at an advertising agency instead. I learned that I was more interested in human behavior as it relates to advertising than I was in counseling. Human behavior, after all, is very much linked to psychology.
What did you do prior to joining the domain name industry?
I held a few roles prior to my time in the domain industry. I worked as a marketing manager, then as a consultant who developed and managed research and marketing strategies that provided insight into my clients' marketing communications programs.
I consulted with an early-stage financial/social networking company to build a new brand and implement multichannel and partner marketing programs.
And before joining the domain industry, I held the role of Group Product Manager at a law firm. There, I was responsible for the growth and management of legal products, where I was able to apply my extensive marketing knowledge and background.
How did you get started in the domain industry and how long have you been in it? 
I've been in the domain business for 10 years. I was hired by Jason Miner, then Chief Operating Officer of BuyDomains (NameMedia), to join the company to help reposition and rebrand Afternic and BuyDomains. Afternic was sold to GoDaddy in 2013, and BuyDomains was acquired by Endurance in 2014.   
I joined the domain business somewhat reluctantly, as I didn't quite understand the value of domain names and what the domain industry represented. 
I quickly realized that the domain business is fun and fascinating and the individuals that I've met and worked with over the years, from registries to registrars and aftermarket providers, have become more than partners, they are friends and make up a community like no other. 
I joined the domain business somewhat reluctantly, as I didn't quite understand the value of domain names and what the domain industry represented. 

Karen Dixon
As we look back over the past two years, the world of business has undoubtedly changed due to the pandemic. Do you believe it's affected the domain industry?
The pandemic has definitely affected the domain industry and we saw that in the rise of demand for domains shortly after the pandemic started, and it continued throughout most of 2021. 
The domain industry continues to grow, as the pandemic solidified for most businesses the need to be able to connect with your customer — a need that does not rely on physical space or location. 
We see our customers use domain names to offer their products online, connect communities, offering services and support to individuals affected by Covid, and so much more.  It's inspirational to me to play a very small part in enabling our customers to do some really great work through their websites.  
Do you think the pandemic has affected women in the workplace? 
The pandemic has absolutely affected women in the workplace, as it has been well documented that women who are mothers are more likely to be the primary parent handling childcare, taking time off to care for children while schools and daycares are closed, and overall caring for the well-being of their families. 
I am hopeful that the flexibility in remote working that the pandemic has enabled will ultimately be positive in women's and mothers' lives. At Newfold Digital, we are hiring most positions remotely and are very flexible about in-person office requirements. If these trends continue, it will benefit women and mothers who need more flexibility in their day to handle childcare responsibilities and disruptions.  
Thanks for sharing your thoughts on that, Karen. As a mother of two, we know that you've experienced many of these changes firsthand. And as your employees and coworkers, we appreciate your flexibility and that of Newfold when it comes to those matters.
We'd like to circle back to something you mentioned earlier about the effects of the pandemic on the domain business. You said that we saw a rise in the demand for domain names, and it made us think about domain name availability. A great number of .com domain names have already been registered, so it can be difficult to find a good primary registration .com domain name. That being said, there are a multitude of additional domain extensions that the general public isn't as familiar with.
You've been in the domain business for over a decade now, what are your thoughts on these newer TLDs and domain extensions? 
I'm excited about what the new TLDs have brought to customers.  More choice is almost always a good thing.
In an environment where 65% of exact match domains are unavailable in search results, we need to find more ways to offer good alternatives to individuals who are starting an online presence. The adoption of the new TLDs was slow initially, but I think we are in a place of more universal acceptance of alternative TLDs as a primary domain and their value in brand protection.  
Great insights, thank you!
Earlier you also mentioned the domain community – made up of individuals, registries, registrars, aftermarket providers, and others. In this "community like no other," do you feel represented as a woman?
I feel somewhat represented in the domain community.
It is still very heavily dominated by men; however, there has been a shift towards more women in leadership roles at domain businesses in the past 10 years. I like to think that I am an example of that, as a senior leader at Newfold which is one of the largest registrars in the world. 
Domain investing still seems to be dominated by men, and I would like to see more women and diversity represented in the domainer community.   
What might you change to make the industry even more welcoming to women and diversity? 
A continuation of promoting women and people of color to leadership roles is essential to achieving equality and representation in this industry. 
Newfold is committed to diversity and inclusion in our recruiting, and these steps are very important to continue our progress of being better representative of the changing demographics of our world.  
What advice would you give to women looking to start a career in domains?  
I would start by encouraging women to look into careers in the domain industry. I think there is low awareness of domains as a career path, and there is a lot of opportunity and room for growth for both men and women who are interested in learning about the industry and motivated to grow their careers. 
Networking is the best way to meet a lot of people and learn about open positions, and there are lots of opportunities for networking in the domain industry.  Events like ICANN meetings and domainer conferences like Namescon are excellent places to start. 
Thank you for sharing your advice, Karen, and for joining us today to discuss women in domaining! We've enjoyed learning about your experiences in the domain business and wish you the best with your future endeavors.
Interested in reading more of our Women in Domaining interviews with leading women in the domain industry? Check out our sit-down with Kelly Hardy, Head of Registry Policy at Centralnic here, and our interview with Neha Naik, Senior Director of Channel Partnerships at Radix Registry here.
---